AIMS AND BENEFITS
There are 11 million periodontitis patients who need treatment and a growing need for peri-implant therapy, both of which demand qualified experts. Do you want to be part of this group?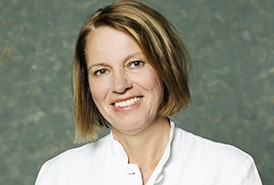 At the moment, there is a demand for qualified experts because of the 11 million periodontitis patients who require treatment and a growing need for implant dentistry and peri-implant therapy. Would you like to become a part of this group of experts? Our innovative part-time Master's programme gives you the necessary theoretical and practical knowledge which you can immediately implement in your surgery. Using coordinated modules, you are qualified for treating complex periodontal treatment cases and you learn the necessary routines and confidence. Our learning platform means that you can access high quality teaching materials any time and anywhere. Your scripts, surgery videos and recommended reading are available at all times.
The special features of our course include:
Teaching a practical prophylaxis and treatment concept including a recall programme (for the entire team)
Teaching or reinforcing skills in surgical or plastic-aesthetic periodontal surgery with supervised operation on a periodontally diseased patient
Practical exercises in implant dentistry and aesthetics
Prevention, diagnosis and treatment of peri-implantitis
You immediately have the option of starting first with individual modules so that you can become familiar with the merits of the course.
Have we aroused your interest?
You're surely familiar with the quote: who stops getting better has stopped being good (Philip Rosenthal).
We look forward to receiving your application!
Yours truly, Professor Petra Ratka-Krüger
YOUR
BENEFITS

YOUR
BENEFITS

The special features of our course include:
Vermittlung eines praxistauglichen Prophylaxe- und Behandlungskonzeptes inklusive Nachsorgeprogramm (für das gesamte Team)
Vermittlung oder Festigung der Fertigkeiten im Bereich chirurgischer oder plastisch-ästhetischer Parodontalchirurgie mit Operation eines parodontal erkrankten Patienten unter Supervision
Praktische Übungen im Bereich Implantologie und Ästhetik
Prävention, Diagnostik und Therapie der Periimplantitis
Ab sofort besteht für Sie die Möglichkeit, zunächst mit
Einzelmodulen
zu starten, um die Vorzüge des Studiengangs schrittweise kennenzulernen.
Konnten wir Ihr Interesse wecken?
Sie wissen ja: "Wer aufhört besser zu werden, hat aufgehört, gut zu sein" (Philip Rosenthal)
Wir freuen uns auf Ihre Bewerbung!
Mit freundlichen Grüßen, Prof.Dr. Petra Ratka-Krüger